FULLY INTEGRATED JEWELRY MANUFACTURER AND EXPORTER
SERVING FOR GLOBAL MARKETS
Established in 1990's Mainly Silver Design Co., Ltd. is a fully integrated jewelry manufacturing and exporting company serving global brands, TV Networks, major jewelry retailers and distributors around the world.

From our location near Bangkok in Thailand, we provide our clients with an effortless way to merchandize their products for new collections, catalogs, special promotions and more…
International management team guides the company by using effective methods to implement the company's strategic plan.
"We stand behind our products" has always been our company's motto for years. We take our clients' satisfaction very seriously by
providing quality products in a timely manner and by backing them up with excellent customer services.
We see social responsibility, highest standards and procedures as one of our main values.
We are certified members of the following organizations:

SMETA (Sedex Members Ethical Trade Audit) assesses a site based on their organisation's standards of labour, health and safety, environment and business ethics.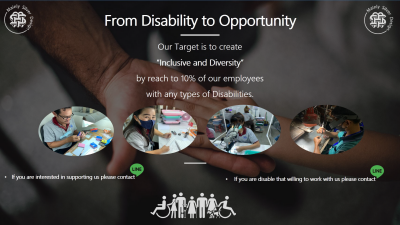 We are looking for Disabled Person. 
MSD Management Review R00_2022Click here to read our Management Report for 2022
MSD constantly provides clients with a many value-added services, from product sourcing, new product development to packaging solutions, all offered at competitive prices. This is the key to the success and growth that MSD has experienced since its inception in early 1990's.
Our modern manufacturing facilities are equipped with the latest technology, like our own electroplating department and x-ray analyzer and with our highly trained workforce, allow us to control quality and cost to stay ahead of the competition.
From traditional to contemporary and trendy designs, our collections are suitable for all types of clients, OEM as well as ODM, who are looking for a reliable source with competitive pricing.